Best Oracle SOA Training in Bangalore
About Oracle SOA Training in Bangalore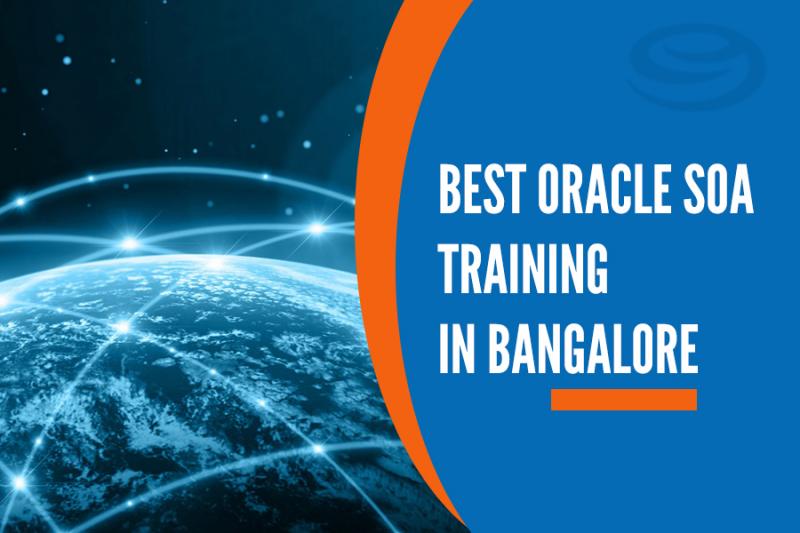 Elegant IT Services



4.9

out of

5
based on
2374
ratings.
Elegant IT Services distinguished itself as the leading Oracle SOA Training Institute in Bangalore. Our Oracle SOA Training Consultants or Trainers are highly qualified and Experienced to deliver high-quality Oracle SOA Classroom and Online Training across Bangalore.
Elegant IT Services is considered pioneer in the filed of IT/Non-IT Training in Bangalore. We are mainly focused on revolutionising learning by making it interesting and motivating. we provide range of career oriented courses for different segments like students, job seekers and corporate citizens.
Our team of certified experts have designed our Oracle SOA Training course content and syllabus for classroom and Online Training is based on current requirements from the industry. This enables them to be an Industry-Ready Professional, capable of handling majority of the real-world scenarios. Elegant IT Services also offer tailored made Oracle SOA Training courses for Corporates.
Our Oracle SOA Training in Bangalore is scheduled normally at a time that best suites you, we offer regular training classes (day time classes), weekend training classes, and fast track training classes. Our Oracle SOA Training course fee is economical and tailor-made based on training requirement. Our team will make you confident & comfortable in cracking interviews.
We also provide online training through which you can access our tutorial Anywhere, Anytime which is valuable and cost-effective. We provide a captivating interactive environment with dynamic content, e-Learning that not only effectively keeps people up-to-date, but interested as well. Its a One Stop Shop for all IT and Non IT Training in Marathahalli, Bangalore.
For more information and to schedule a free Demo on Oracle SOA Training, contact Elegant IT Services @ +91 98865 41264
Mode of Training : Classroom / Online Training
Oracle SOA Training Course Content
ORACLE SOA ADMINISTRATION
Oracle Middleware has rapidly became the #1 choice for customers across the globe for their SOA Implementation. As a result, there is a huge demand for administrating their implementation in production. This course outlines all the important administrative aspects of fusion middleware like deployment, version control and administration of each soa component (BPEL, Mediator, Business Rules and Human Workflow), configuring adapters and many more. This course will cover following topics.
Introducing SOA and Oracle SOA Suite 11g
Describing Service-Oriented Architecture (SOA) Concepts
Introducing Service Component Architecture (SCA) Composite Applications
Describing Oracle SOA Suite 11g Architecture and Components
Introducing Oracle SOA Suite 11g Administration Tools
Installing Oracle SOA Suite 11gSOA
Creating SOA Schemas with the Repository Creation Utility
Installing Oracle SOA Suite 11g
Configuring an Oracle Web Logic Domain with SOA Suite 11g Components
Exploring Oracle Enterprise Manager Fusion Middleware Control Console
Managing SOA Composite Applications
Describing Composite Application Structure and Dependencies
Deploying Composite Applications
Testing and Monitoring Composite Applications
Managing Composite Application Life Cycle
Administering the SOA Infrastructure
Configuring Oracle SOA Suite 11g SOA Infrastructure Properties
Monitoring SOA Infrastructure Run-time Information
Administering Oracle JCA Adapters and Binding Components
Describing JCA Adapters and Binding Components
Configuring JCA Adapter Properties
Configuring File, Database, and JMS JCA Adapter Run-time Resources
Monitoring JCA Adapter Instances and Faults
Administering BPEL Process Service Components and Engines
Describing BPEL Components and Service Engine
Configuring BPEL Service Engine Properties
Tracking Messages in a Composite Application With a BPEL Process
Monitoring BPEL Process Component Instances
Managing BPEL Process Component Instances and Faults
Administering Oracle Mediator Service Components and Engines
Describing Mediator Components and Service Engines
Configuring Mediator Service Engine Properties
Monitoring Mediator Component Instances and Routing information
Administering Decision Service Components and Business Rules Service Engines
Describing Decision Services and Business Rules Service Engines
Monitoring Business Rules Service Engine Instances and Faults
Administering Oracle User Messaging Service
Describing User Messaging Service (UMS) Architecture and Components
Configuring UMS for Human Workflow and BPEL Process Components
Configuring Oracle WebLogic Server Embedded LDAP Server
Configuring the Email Messaging Driver
Administering Human Task Service Components and Human Workflow Service Engines
Describing Human Workflow Components and Service Engine
Configuring the Human Workflow Services
Configuring Human Workflow Task Service Properties
Exploring the Worklist Application for Task Management Application
Describing User Messaging Preferences
Administering Oracle Business Activity Monitoring
Describing Oracle BAM Components and Architecture
Configuring the Oracle BAM Adapter
Configuring Oracle BAM Server Properties
Managing Oracle BAM Users and Distribution Lists
Monitoring BAM Activity and Components
Administering Oracle B2B
Describing the B2B Components and Concepts
Describing the B2B Console and Administration Tasks
Configuring a B2B Implementation
Testing a B2B Implementation
Monitoring B2B Messages in Oracle B2B Console
Administering Business Events
Describing Business Events
Describing the Event Delivery Network Architecture
Managing Business Event Subscriptions
Monitoring Business Event Occurrences
Configuring Security Services and Policies
Describing Oracle Web Services Manager Functionality
Describing Web Service Security Concepts
Creating a Simple Web Service Security Policy
Securing a Service Endpoint with the Security Policy
Monitoring Web Service Security Violations
Tuning Performance of Oracle SOA Suite and Components
Implementing Best Practice Starting and Stopping Managed Servers
Extending SOA Database Table spaces
Managing connection thresholds
Optimizing Loading of Enterprise Manager Metric Page Information
Purging data from Dehydration Store
Troubleshooting Oracle SOA Suite
Resolving Managed Server Start-up Problems
Managing Connection Timeouts
Identifying and Resolving Common Application Problems
Configuring High Availability for Oracle SOA Suite
Describing Types of High Availability Options
Describing High Availability Implementations
Backing Up and Recovery of Oracle SOA Suite Instances
Adopting a Backup and Recovery Strategy
Backing Up Oracle Fusion Middleware Environments
Backing Up the SOA Database Schemas
Recovering Oracle Fusion Middleware Environments
Recovering SOA Database Schemas
Oracle SOA Training Interview Questions and Answers
No Interview Questions Found..
Oracle SOA Training Course Duration in Bangalore
Regular Classes( Morning, Day time & Evening)
Weekend Training Classes( Saturday, Sunday & Holidays)
Fast Track Training Program( 5+ Hours Daily)
Duration : Within 10 days
Oracle SOA Training Trainer Profile
Our Oracle SOA Training Trainers in our Elegant IT Services
Has more than 8 Years of Experience.
Has worked on 3 realtime Oracle SOA Training projects
Is Working in a MNC company in Bangalore
Already trained 60+ Students so far.
Has strong Theoretical & Practical Knowledge
Oracle SOA Training Centers
We Provide Oracle SOA Training in below Centers across Bangalore
Oracle SOA Training Placements in Bangalore
Oracle SOA Training Placement through Elegant IT Services
More than 5000+ students Trained
87% percent Placement Record
4627+ Interviews Organized
---
If you are looking for Oracle SOA Training course in Marathahalli, Whitefield, Varthur, Domlur, AECS Layout, Doddanekundi, Thubarahalli, Nagawara, Nagavara, Banaswadi, HBR Layout, RT Nagar or Hebbal. Please call us or mail your details and our concerned person will get back to you.